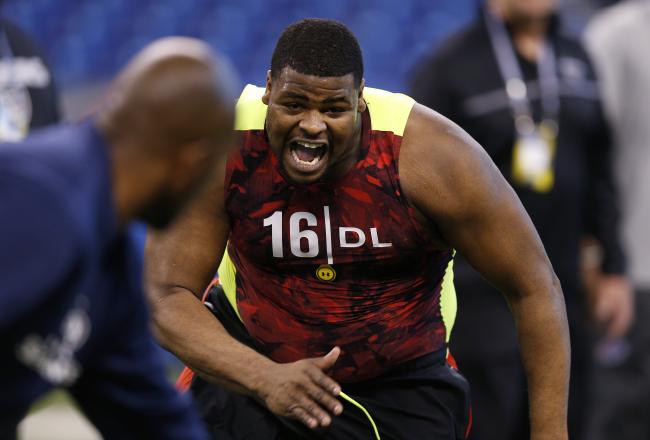 Joe Robbins/Getty Images
Ohio State was well represented at the NFL Scouting Combine in Indianapolis as seven former Buckeyes participate in the event this weekend.
The combine won't conclude until Tuesday, but with the cornerbacks and safeties scheduled to workout today, the former Buckeyes' work is done.
A number of Buckeyes improved their draft stock with impressive performances, while others were held out of specific events due to injury. John Simon, who won the Big Ten's Defensive Player of the Year award in 2012, didn't work out at all because of an injury suffered at the Senior Bowl.
Here are the full combine results for the six other Buckeyes who worked out over the weekend.
*Combine results courtesy of NFL.com.
Johnathan Hankins, Defensive Tackle
40-yard dash: 5.31 seconds
Vertical jump: 26 inches
Broad jump: 104 inches
Nathan Williams, Defensive End
40-yard dash: 4.88 seconds
Bench Press: 24 reps
Vertical jump: 35 inches (Tied for fifth-best among defensive linemen)
Broad jump: 113 inches
Jake Stoneburner, Tight End
40-yard dash: 4.65 seconds (Third-best among tight ends)
Bench Press:  18 reps
Vertical jump: 34.5 inches (fifth-best)
Broad jump: 116 inches (fifth-best)
3-cone drill: 7.12 seconds
20-yard shuffle: 4.27 seconds (top performance)
60-yard shuffle: 11.50 seconds (top performance)
Continue reading Ohio State Football: Full Combine Results for Former Buckeyes