If Urban Meyer had placed a banner with the words "The Chase" in Ohio State's indoor practice facility last spring, he might have been asked, "For what?"
Sure, football players are always chasing something, as Meyer noted Tuesday when asked about the big, bold banner now hanging at the Woody Hayes Athletic Center. That "something" can be localized: a starting job, a bigger role in the offense or defense, a scholarship, a coach's approval.
But Ohio State couldn't chase many tangible team goals last spring. The Buckeyes couldn't chase a Big Ten championship or a national championship because of NCAA sanctions. They only found out in September that they could chase a Leaders Division title. Undoubtedly their greatest attribute was an ability to chase the grandest goal they could — a perfect 12-0 regular season, capped by a win against archrival Michigan — and achieve it.
The banner makes much more sense now. Ohio State has emerged from the shadow of postseason probation and can chase whatever it wants, including the crystal football that has eluded the Scarlet and Gray — and the rest of the Big Ten — for more than a decade.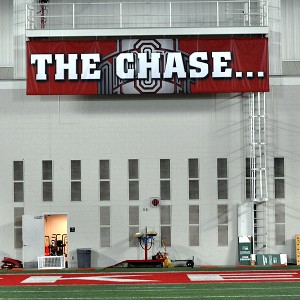 "Some guys are chasing starting positions," Meyer said, "some guys are chasing a bowl game, some guys an NFL contract. … It means more, but that's where we're going to stop."
Meyer and his players can stop there for now. They should, as it's only spring practice. But "The Chase" will be a theme throughout Ohio State's offseason as bigger, broader goals are back on the table.
"Everybody's got big dreams," Meyer said, "and we as a football team have some dreams."
Ohio State can dream big primarily because of an offense that transformed in 2012, rising from 81st nationally in scoring to 21st and from 107th in total yards to 47th. Quarterback Braxton Miller blossomed in Meyer's system, racking up a team-record 3,310 yards of offense, earning Big Ten Offensive Player of the Year honors and finishing fifth in the Heisman Trophy voting.
Continue reading this article: Buckeyes begin chase for loftier goals