COLUMBUS, Ohio — The deep balls carried easily down the field.
The passes to the sideline arrived crisply, and pretty much everything over the middle was on the money.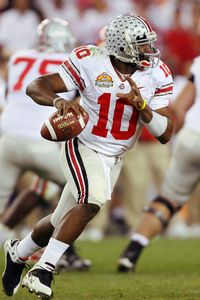 None of the 36 scouts at Ohio State on Friday morning were there to watch Troy Smith work, but six years after going through his own Pro Day, the former Heisman Trophy winner still put on a show for them anyway.
"That wasn't for me, though," a sweating Smith said as he walked off the field at the Woody Hayes Athletic Center. "That was for Jake Stoneburner, that was for those guys. Anything the Buckeyes need in general around here, I'm at their leisure. Any which way we're going to work, I'm going to help.
"You know, over the years I've learned [a writer's talent] is media stuff. I can roll out of bed and throw spirals, what can I say?"
Those tight spirals helped Stoneburner, who said he dropped his 40-yard dash time to 4.52 seconds and then followed it up with an impressive pass-catching performance with his new mentor playing quarterback for him.
Continue reading this article: Troy Smith lends a hand on Pro Day