COLUMBUS, Ohio — Maybe it looks like a leisurely pace for spring practice.
Ohio State reported back to work earlier than it appears to have ever done, knocked out a couple workouts and then took a week off for Spring Break.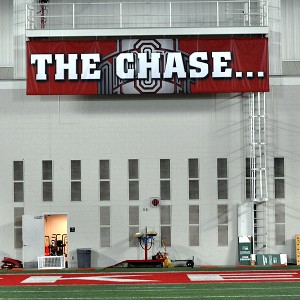 With the early March weather being volatile and unpredictable, Ohio State has been spending much of its spring practice time inside.
But don't be fooled by the number of afternoons on the practice field or the temporary pause in drills that the reporting date and the academic calendar combined to give the Buckeyes. While the actual number of practices can't change, the coaching staff can do a bit of massaging with how it uses those 15 dates — and the benefits for the young Buckeyes are perhaps best measured in weeks and hours during camp instead.
"We felt it was really important, especially with this outfit, to get the 20-hour work week as often as we can," Ohio State coach Urban Meyer said. "That means Monday, Wednesday and Friday we get a significant amount of meeting time. Then when we get back we're going to go [practice] on Tuesday, Thursday and Saturday again.
"Why? Because we get three days of a lot of meeting time, which is obviously [helpful] with where we're at with a lot of youth in spots on our football team. We'll have four-hour meeting days on Monday, Wednesday and Friday. It's significant, the first time I've done it, and so far I love it."
Meyer hasn't had long to evaluate his new approach yet, but it only took two days and one practice for him to start raving about the potential benefits when camp officially opened last week.
The weather isn't perfect around Ohio State's campus in early March, and the Buckeyes were forced to move their practices so far indoors at the Woody Hayes Athletic Center because of it. The gap between workouts due to spring break, which a school spokesman called "unprecedented" for the program, might not be ideal either.
But when the Buckeyes report back to work for a second time, they'll be cleared to put the pads on and go live. And they'll still have four full, busy weeks of work ahead of them as the coaches try to speed up the learning curve with so many fresh faces needed to fill voids, particularly on defense.
Continue reading this article: Buckeyes adjusting to new spring schedule