Ohio State is one of the largest universities in the country and has the largest athletic department, so there are plenty of Ohio State fans all around the nation (and the world for that matter).
There are a handful of ways to know whether you are a Buckeye fan. The easiest may be whether or not the sight of this gets the hair on the back of your neck to stand up or not.
But if that didn't cause a reaction, there are 1o more reasons to help you decide.
If You Used to Hate the Coach You Love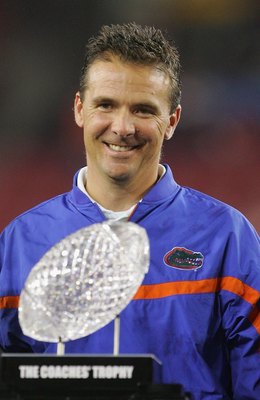 Urban Meyer won his first national championship against his beloved Buckeyes.
Stephen Dunn/Getty Images
Whether it was the "debacle in the desert," the dream, the retirement, the comeback or the second retirement, Buckeye fans—like fans all around the country—didn't like Urban Meyer.
But my how things have changed.
Meyer has come home and led his state's top program to an undefeated season and brought in two big-time recruiting classes (2012 and 2013) that have the future looking bright for the football program.
And its adoring fans.
Continue reading at Bleacher Report – Big Ten Football