The Ohio State basketball team is making it a mission to ensure there are no more nails remaining among Buckeye Nation by the time this tournament is over.
After eliminating Iona with relative ease, the Scarlet and Gray looked primed to blow past Iowa State in the round of 32 until the Cyclones came charging back late in the second half. Aaron Craft, who had made some costly mistakes during that Iowa State charge, rescued his squad and its Final Four hopes with a three-point dagger with .5 seconds remaining.
So how have the Buckeyes fared in the tournament if we put them through the rigors of a grading system? Read on to find out.
Aaron Craft: B+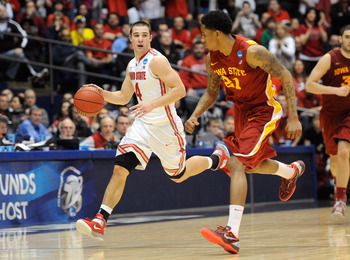 It may seem a bit harsh that Aaron Craft doesn't automatically receive an A for his game-winning shot against Iowa State, but let's not forget the struggles he experienced in the minutes leading up to the buzzer (not to mention with higher expectations comes stricter grading).
His missed free throws, turnovers and untimely foul were major reasons the Cyclones were allowed back into the game. It appeared that Buckeye fans were witnessing a rare meltdown from their floor general, something that hasn't really been seen since the trip to Ann Arbor.
Of course, Craft redeemed himself and kept the Final Four hopes alive with a drawn charge and the buzzer beater. He also tallied 18 total points, six assists and two steals.
In the first contest against Iona, Craft was a defensive superstar but struggled with his shot. He stole the ball an incredible six times and racked up seven assists, but he only scored four points on two-of-eight shooting.
If Craft can continue to play lockdown defense and eliminate some of the offensive errors he committed, he could propel the Buckeyes to the Final Four at the very least.
Continue reading at Bleacher Report – Ohio State Basketball