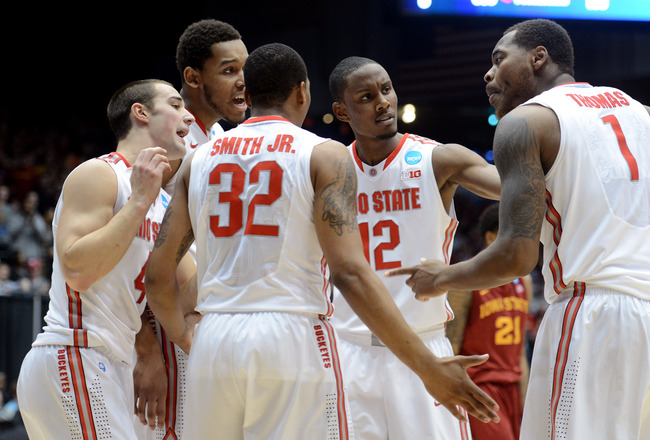 Jason Miller/Getty Images
Aaron Craft and the Ohio State basketball team may have had the defining moment of the NCAA tournament's opening weekend that didn't involve a team from the Gulf Coast of Florida, but it's time to move forward toward the ultimate goal of reaching the Final Four.
Standing in the way is the Arizona Wildcats of the Pac-12, arguably the most talented team on the entire West Coast. Former Thad Matta assistant Sean Miller has the program humming again, and he would love nothing more than to dispatch his former boss in the Sweet 16 (even if they are still friends).
What do the Buckeyes have to do to ensure this doesn't happen and earn a trip to the Elite Eight against either upstart La Salle or Wichita State?
Aaron Craft vs. Mark Lyons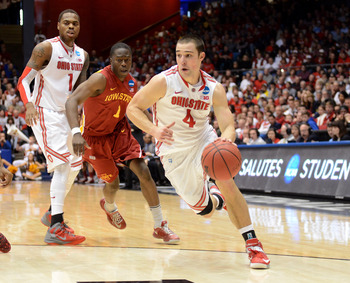 Mark Lyons, much like Thad Matta and Sean Miller, used to consider himself a Xavier Musketeer before transferring to Arizona. He is no stranger to the tournament and is playing like he understands this is his last chance at collegiate glory.
Lyons poured in 23 points against Belmont and followed that up with 27 against Harvard. He doesn't rack up the assist totals because he is not a true point guard, but if Lyons is scoring like that then Arizona is nearly impossible to beat.
That is where Aaron Craft comes in. He is one of the best on-ball defenders in the country—if not the best—and thrives by making life miserable for opposing ball-handlers. If he can prevent Lyons from scoring in an efficient manner, the Buckeyes can make the Wildcat offense look rather pedestrian.
As talented as Lyons is, he has averaged nearly three turnovers per game this season and tends to get frustrated with himself when he loses the ball. That often leads to more turnovers and an Arizona loss.
Craft has to make sure that happens Thursday.
Continue reading at Bleacher Report – Ohio State Basketball