COLUMBUS, Ohio — Braxton Miller showed up at the Ohio State football complex on Wednesday with a surprise under his Toronto Raptors cap.
Miller dyed the middle strip of his hair bright blonde while shaving down the sides, creating a "fro hawk" that was reminiscent of former LSU cornerback Tyrann Mathieu's 'do. The Buckeyes quarterback unveiled the look during a spring kickoff luncheon, drawing gasps from the fans in attendance.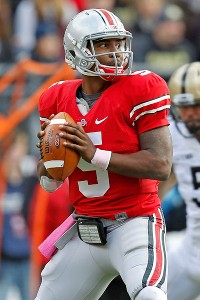 The highlighter-yellow color wasn't the only reason for shock. Miller normally isn't one to draw attention to himself, outside of his jaw-dropping moves on the football field. Despite finishing fifth in the Heisman Trophy voting and leading a 12-0 team last season as a sophomore, he still manages to maintain a relatively low profile.
"If you didn't know him and you saw him walking down the street, you would never know that was Braxton Miller," Ohio State offensive tackle Jack Mewhort said. "He doesn't talk about all that stuff. It's like he doesn't want the spotlight."
Miller had some posters made up of his recent Sports Illustrated cover, but he hasn't hung them up. He has a Twitter account but uses it mostly to talk to friends. A normal night, he said, involves going home after practice or film work, studying some more football on his iPad and "chilling with the homies at the house." He laughed when I asked him if he'd ever be spotted courtside at an NBA game or posing with celebrities like Texas A&M's Heisman winner, Johnny Manziel.
"I don't go out much," he said. "I'm not out there to get seen or to get talked about. That's not in my blood."
It's hard to hide when you're the reigning Big Ten offensive player of the year and a leading 2013 Heisman candidate for a team that should be ranked in the preseason Top 5. But it's unlikely you'll hear Miller stumping for his Heisman chances like South Carolina's Jadeveon Clowney has done.
"He's one of the greatest kids I've ever been around," Ohio State coach Urban Meyer said. "He's so humble. That's unique for a starting quarterback who has that kind of exposure."
Miller's actions have always spoken louder, anyway. He's already created volumes of highlights in less than two full years as a starter, leaving defenders grasping for air with his open-field — and sometimes open-air — moves. But Meyer said Miller — who ran for 1,271 yards and 13 touchdowns last season — has thus far gotten by mostly on pure athleticism. The next step is for him to master the fundamentals and become a precise passer.
He completed just 58.3 percent of his passes last season, placing him in the lower half of Big Ten starting quarterbacks in that regard. Meyer said Miller's mechanics often broke down whenever there was pressure or he was scrambling to make a play.
"He's probably the best athlete I've ever coached at that position, which is a great thing but also a hindrance," Meyer said. "He gets away with things lesser athletes don't, and it's gotten him out of so much trouble. That's great, and I don't want to lose that. We just have to coach him through it."
Continue reading this article: Braxton Miller looks to take next step