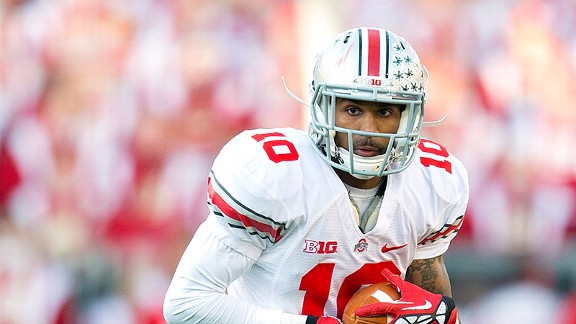 Jeff HanischThe Buckeyes are counting on WR Philly Brown to make the offense a more dynamic one in 2013.
COLUMBUS, Ohio — Last year, Ohio State led the Big Ten in scoring at 37.2 points per game. Great, right?
Not in the minds of the Buckeyes, who thought they could have fielded a much better all-around attack.
"I feel like last year we didn't play a complete game as an offense," running back Carlos Hyde said. "Some games it was all running, while others it was just passing."
Head coach Urban Meyer rarely seemed happy with the offensive production last year, outside of the running skills of Hyde and quarterback Braxton Miller. He often expressed his dissatisfaction over a lack of speedy playmakers and an inconsistent passing game.
"I'd get frustrated," Meyer told ESPN.com. "But the bottom line is, name an offense that doesn't have guys who make people miss and are dynamic with the ball in their hands, and that's not a great offense. We don't have enough."
The names on offense haven't really changed much this spring. But the hope is that with another year of understanding the system, some improved throwing and catching and maybe some reinforcements from the recruiting class, the Buckeyes will come closer to fulfilling Meyer's vision of a truly great offense.
It all starts, of course, with Miller, whose efforts to become a more accurate passer this offseason have been well documented. Ohio State also needs continued development from its receivers, which is not a very deep group right now. Meyer singled out Corey "Philly" Brown, who led the team with 60 catches for 669 yards, as someone who's becoming one of those dynamic playmakers he's seeking.
"I've tried to work on my open-field running and body control so I could cut faster," Brown said. "It's really paying off for me right now."
Brown is the clear No. 1 receiver, but he needs more help. The team has only six scholarship receivers this spring, and offensive coordinator Tom Herman said he'd only feel comfortable playing four of them for a whole game. Devin Smith made some highlight-reel catches on deep balls early last year but was less effective down the stretch, as he had only 13 receptions in the final eight games.
"People, for lack of a better term, figured him out," Herman said. "He wasn't a very versatile guy. He did a couple of things really well, but the other things that he tried to do, he was very below average. He's starting to improve some of his weaknesses to be a more complete receiver, and he has a lot of physical tools and a great attitude."
Herman said Chris Fields has had a really good spring, and Evan Spencer is a reliable target. Sophomore Michael Thomas, the star of last year's spring game, has shown flashes of his talent but needs to progress in a lot of areas. Herman called the receiver depth "a bit scary right now." But the Buckeyes recruited several receivers in this year's class, including Jalin Marshall, Dontre Wilson, James Clark and Corey Smith. They're hoping at least one or two contributes right away.
"You hate to count on [recruits] because they're usually overrated," Meyer said. "But that's why we went out and recruited them."
"We're not asking them to come in and be Jerry Rice," Herman said. "We just hope they can provide some depth and maybe add some skills that we don't currently have in that room right now."
Continue reading this article: Buckeyes say more in store for offense