On Saturday, Ohio State's second spring under Urban Meyer will culminate in the 2013 Spring Game, held this year at Paul Brown Stadium in Cincinnati.
The spring has had plenty of intriguing storylines play out, and we've seen plenty of youngsters starting to make their presence felt.
Ultimately, we won't know how much we learn about the spring until the end of August when we see just how much of that progress carries over into the season because the spring game will only showcase so much.
But there's still plenty to keep an eye on and take note of going into the long summer before the return of the season.
Here are five things to watch.
Braxton Miller's Improvement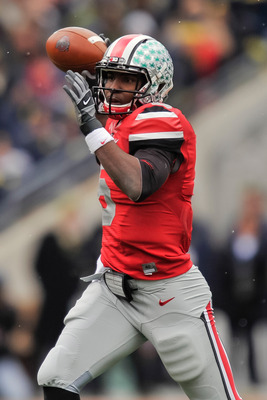 Nearly all eyes in Columbus will be focused on Braxton Miller, who finished No. 5 in the Heisman Trophy voting after a breakout 2012 season.
The question will be how much more he continues to grow, after spending some time in the winter working with George Whitfield Jr., who has worked with so many talented quarterbacks in the past few years.
The results from the practices are pretty good in terms of continuing to grow as a thrower and making big plays in the passing game.
It will be a different test when we get to see it at full speed in a scrimmage atmosphere.
Continue reading at Bleacher Report – Big Ten Football