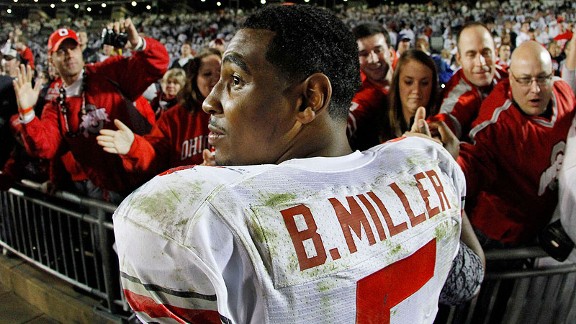 AP Photo/Gene J. PuskarBraxton Miller may not reach his full potential in '13, but he still could be the best player in the nation.
You saw last season what Ohio State quarterback Braxton Miller could do in an offense more suited to his skill set.
Remember this? And this? And this?
But it's what Miller didn't do that builds his case to be the nation's best quarterback in the 2013 season.
Take his scrambling skills, for example.
"Awful," Ohio State offensive coordinator Tom Herman said. "Just awful."
We'll come back later to how a quarterback who rushed for 1,271 yards and 13 touchdowns last season can be such an awful scrambler.
For now, let's move onto Miller's grasp of the Buckeyes offense.
"We went 12-0 last year, he finished fifth in the Heisman [voting] and he couldn't draw you where all 11 guys were going to be," Herman said.
Scrambling and system knowledge are just two of the areas Miller sets out to improve in his junior season in Columbus. He led Ohio State to just the sixth unbeaten, untied season in team history, won Big Ten Offensive Player of the Year and Silver Football (league MVP) honors, recorded a team-record 3,310 yards of total offense and had 26 runs of 20 yards or longer.
But he hasn't come close to reaching his potential as a college player. And that, more than any other reason, is why you should Believe In Braxton. Herman does.
"He hasn't fought me any step of the way," Herman said. "The kid, he wants to be the best in the country, so I need to give him as many tools as I can to allow that to happen."
Continue reading this article at ESPN: Making the case for Braxton Miller