COLUMBUS, Ohio — The wait is almost over. The season is finally creeping closer again, and the annual release of preseason watch lists for the biggest awards in college football confirms it — and helps provide a useful distraction during the final month leading up to the start of training camp.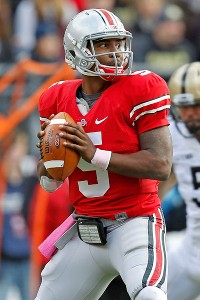 BuckeyeNation will be tracking all the Ohio State players being tracked by the various committees and handicapping their odds of bringing trophies back to campus.
DAVEY O'BRIEN AWARD
What: The nation's top quarterback
On the list: Ohio State junior Braxton Miller
Credentials: The impact Miller has on a game is as obvious as it is diverse, and the undefeated record he helped drag the Buckeyes to last fall reinforces just how valuable he is in Urban Meyer's spread offense. But now that he's got a full season operating it under his belt, Miller might really start tapping into his enormous potential as the triggerman for the Buckeyes. The key will be improved mechanics and fundamentals as a passer, starting with his footwork and then moving on to his familiarity with the system and where to place the football. Spring statistics might not mean all that much, but Miller showed marked improvement with the basics throughout camp before impressing with his accuracy in the exhibition game that provided a bit more momentum heading into the summer months, completing 16 of his 25 attempts — with a couple of incompletions coming on smart decisions to throw the ball away. Already among the best in the country last year, Miller has more weapons around him, more comfort with the attack and an even greater chance to win more individual hardware.
Continue reading this article at ESPN: Awards watch: Miller on another list