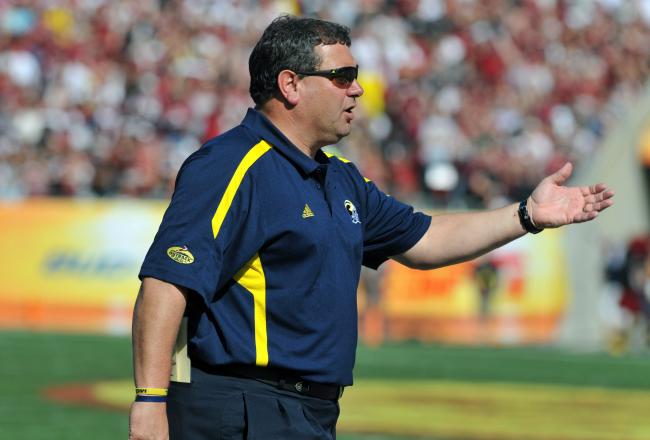 Following Monday's news that starting running back Carlos Hyde, cornerback Bradley Roby and a pair of freshmen were dealing with a bit of legal trouble, Ohio State fans were desperately seeking refuge from the avalanche of bad press.
Who would have thought that Michigan coach Brady Hoke would be the one providing that refuge?
According to NBC's Columbus affiliate, Hoke reached out to Ohio State fan and 12-year-old Grant Reed with a kind gesture.
In case you missed it, Reed, who was diagnosed with cancer less than two years ago, made headlines when it was revealed he named his brain tumor "Michigan." As a lifelong Buckeyes fan and son of two former members of the university band, Reed channeled his hate of Michigan as a source of strength to power through his chemotherapy treatments.
Reed successfully beat "Michigan" when he completed his final treatment two weeks ago.
The news reached Hoke, who, unsurprisingly, was pleased to hear that "Michigan" was defeated. The Wolverines' head man reached out to give the Reed family encouragement, in addition to an amazing offer.
Instead of watching Ohio State's game against Michigan from home this November, Hoke invited the Reed family to see the action firsthand by offering them four tickets, free of charge. According to Eleven Warriors, the rotary club in Jackson, Michigan has also offered to pay for any hotel costs the Reed family collects.
Continue Reading: Brady Hoke Reaches out to 12-Year-Old Boy Who Named Brain Tumor 'Michigan'