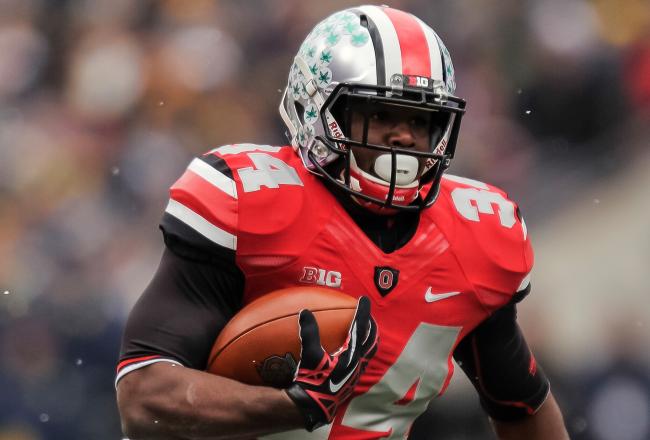 Jamie Sabau/Getty Images
The spotlight of player misconduct has been shining brightly on Ohio State this week. The school announced on Monday that four Buckeyes were "disciplined" in connection to various legal issues, a move that will be a heavy topic of conversation at the 2013 Big Ten Media Days in Chicago.
Senior running back Carlos Hyde was among the four players disciplined on Monday. Hyde, who played in 10 of Ohio State's 12 games in 2012, was mentioned as a person of interest by the Columbus Police Department in connection to a recent nightclub assault.
A new report from Yahoo! Sports' Charles Robinson appears to have exonerated Hyde. According to Robinson's sources, a surveillance tape at the nightclub has shown that Hyde did not strike the woman who claimed to be assaulted during Saturday's early-morning hours.
If Hyde is cleared of any connection to the alleged assault, he should not use the news as a reason to continue flirting with the long arm of the law. In fact, Hyde has a duty to his teammates, his head coach and Ohio State University to be a model citizen for the remainder of his time in college.
Continue Reading: Carlos Hyde Must Be Model Citizen for Buckeyes If He's Reinstated by Urban Meyer