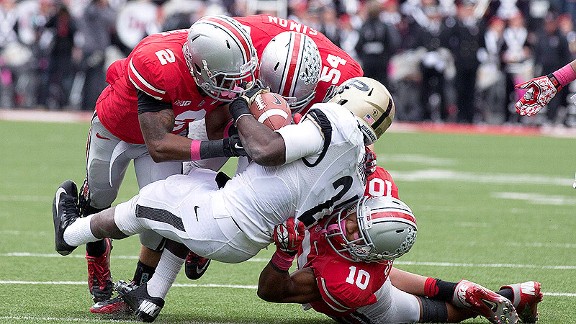 Greg Bartram/US Presswire
COLUMBUS, Ohio — Christian Bryant didn't need to go back to watch any video to know there was at least one hit on his highlight reel that could get him in trouble if he delivered another one like it.
"Maybe Michigan State," the Ohio State senior said last week. "That's the only one I can think of."
If there are more, the Buckeyes are certainly going to find them and point them out to their physical safety because the penalty is now much more severe than just walking off 15 yards and moving on after a personal foul.
Under the new targeting rules that can lead to an instant ejection — even for a first-time offense for helmet-to-helmet contact — managing Bryant's trademark violence will be near the top of the priority list for Ohio State as it reports for the start of training camp on Sunday. The coaching staff settled in for a retreat over the weekend to analyze the impact of the new rule. The difficulty is finding the line between allowing Bryant to keep playing with his amped-up aggression despite the threat of an early visit to the showers.
"I've put some time aside to discuss the targeting rule and how we teach," Buckeyes coach Urban Meyer said at Big Ten Media Days last week. "There was some videotape where I'm not sure you can stop a guy. Both guys are going after a ball and the guy said that was going to be an ejection. We said to the official, 'You can't teach [avoiding that].'
"I do agree with this, you go into someone with the intent of [helmet-to-helmet contact], he's out. That guy right over there, Christian Bryant, we have to really work with him, because he's got to play with [his head up]."
Continue reading this article at ESPN: Buckeyes' Bryant must walk a fine line