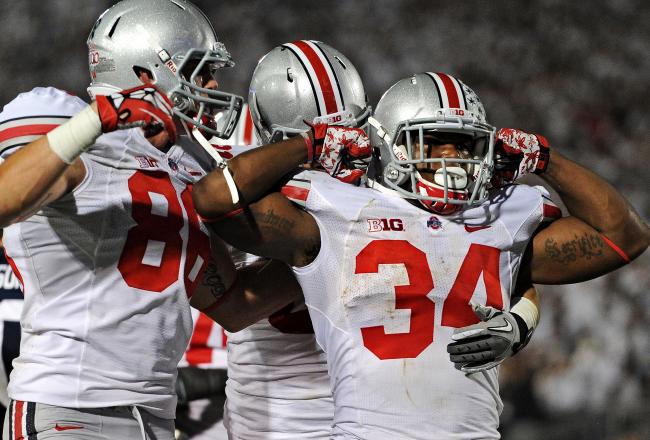 Patrick Smith/Getty Images
Ohio State running back, Carlos Hyde, has seen his status in limbo following an incident at a night club in Columbus. The story grew legs of its own as it progressed from Hyde being a person of interest in an assault on a woman, to him allegedly punching the victim.
As the facts cleared up, a video was revealed that showed Hyde and the woman talking, the woman swinging at Hyde and Hyde swiping back at her; whether either swipe connects is tough to tell while watching the surveillance video from Columbus' NBC4 station, via Denise Yost.
Upon news that the victim would not be pressing charges, from a statement made to NBC4, Urban Meyer acted swiftly. The coach suspended Hyde for the first three games of the 2013 season, despite no criminal charges being brought against him, via Ben Kercheval of College Football Talk:
Carlos Hyde will be suspended for at least the first three games of the 2013 season for conduct not representative of this football program or this university. He will be required to fulfill additional obligations before he is allowed to play in a game.
Tough for Hyde, good for Meyer and in the end, something that certainly makes sense.
No, criminal charges were not filed. Yes, the investigation was closed. No, Hyde did not punch or knock out the victim as so many people seemed to be assuming.
However, through it all, with video evidence, the young man did take a swing at a woman. Certainly, it was after she swung at him and no, it is too close to tell if either attempt actually connected. But, even as many say, "nothing to see here," the fact is he still took an open-handed swipe at a female.
That is something you cannot do, and in this instance, with the video proof, Hyde has to be parked for a short time.
Continue Reading: Should Urban Meyer Still Punish RB Carlos Hyde After Investigation Was Closed?