COLUMBUS, Ohio — The wait is over. The season might not be here yet, but football is officially returning with the start of training camp on Sunday.
So after an offseason filled with questions about issues away from the field, the focus is once again back on the game itself. And these five topics will be worth monitoring as Ohio State reports for practice with the great expectations that come with being ranked No. 2 in the preseason poll.
Who is ready to lead?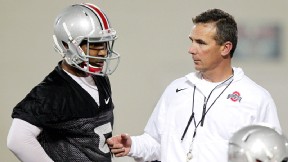 The Buckeyes don't take the captaincy lightly, and the value coach Urban Meyer has put on leadership has never been in doubt, particularly given how much credit the senior class received for the unbeaten season a year ago.
That makes identifying the right group of veterans to take that torch incredibly important for Meyer as he tries to light a path to the national championship, and while a couple of clear choices have emerged to be the face of the program, August will be critical in finding a few more veterans to set the tone.
Left tackle Jack Mewhort and safety Christian Bryant both have emerged as respected voices in the locker room, and Braxton Miller is also starting to find his footing as a more vocal presence. But a couple of other guys who had high hopes of being in that mix are currently or will be facing discipline for issues last month, which will make it pretty unlikely cornerback Bradley Roby or running back Carlos Hyde will be tabbed for a captaincy. Seniors like Philly Brown, Corey Linsley and C.J. Barnett could fill that void, and junior linebacker Ryan Shazier will need to set an example on defense as well.
Continue reading this article at ESPN: Four questions: Time for OSU training camp