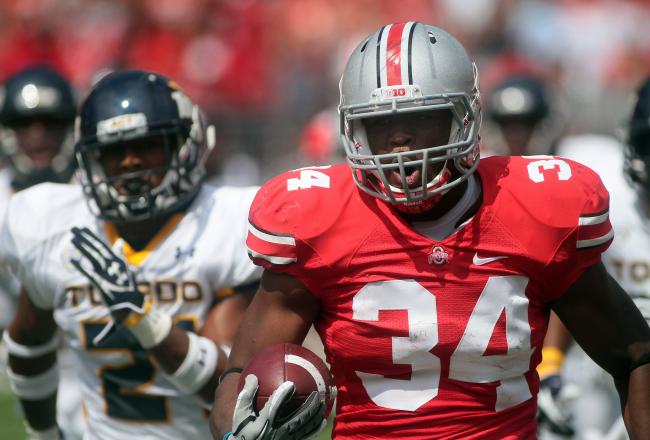 USA TODAY Sports
Urban Meyer and his coaching staff are going to have some tough decisions to make before the Ohio State football team runs onto the Ohio Stadium field on August 31.
There are several position battles that will continue well into fall camp. With camp having just started on August 5, Meyer and company will have plenty time to evaluate and find suitable replacements for departed talents like offensive tackle Reid Fragel, defensive tackle Johnathan Hankins, linebacker Zach Boren and defensive end John Simon.
Running back will also be a position to monitor as pegged starter Carlos Hyde will serve a three-game suspension to begin the season.
Let's take a look at who will be competing and what to expect over the next few weeks while everything is being decided.
Middle Linebacker
Candidates: Chris Grant, Camren Williams, Trey Johnson, Mike Mitchell
Zach Boren wasn't supposed to be the starting middle linebacker for the 2012 Buckeyes. Chris Grant began the season in that spot, only to lose the job after poor showings to begin the season. From the look of things, Grant is refocused and prepared to earn the job this fall, but it's hard to count on him after he disappeared last season.
Camren Williams initially will be his biggest challenger, but hasn't done very much to date to prove he can handle the task.
Freshmen Trey Johnson and Mike Mitchell have high upside, entering the mix as two of the six linebackers on scholarship in the program. If things don't go as planned with Grant and Williams, one of these two have an outside shot to win the job with an impressive showing in August.
Continue Reading: Ohio State Football: Breaking Down Position Battles in Fall Camp