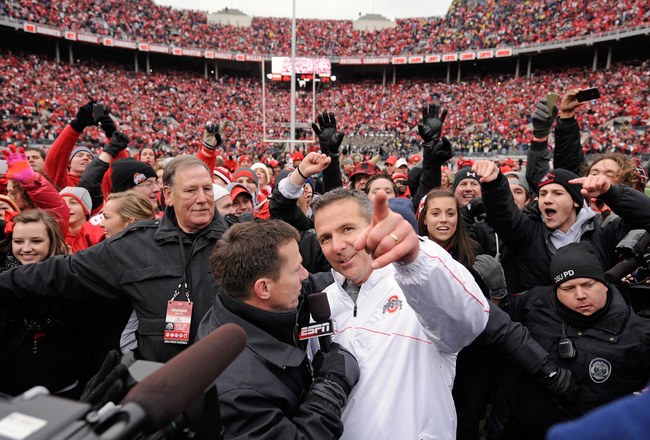 Jamie Sabau/Getty Images
It's time to think B1G.
Over the next few weeks, you will read approximately 1,429 college football previews that explain the exact same thing in slightly different ways. You will read it because you are exceedingly desperate for anything that includes actual football, and no one is judging you for it.
In an effort to break up such monotony, however, this is not what will be presented here. Predicted records, breakout players, schedule analysis, strengths and weaknesses have been included for each team, but those are just a part of the package.
A Twitter analysis has also been provided—a 140-character summary of the season ahead for all 12 B1G members. Sometimes saying less can provide more. Also, Twitter is where all the cool kids are hanging out, and the Big Ten is simply trying to fit in.
And because college football is all about tailgating, and more specifically, what is consumed at that tailgate, each team has also been compared to a type of alcohol. Think of it much like the preseason coaches poll, only slightly more useful.
Kirk Irwin/Getty Images
Predicted Record: 12-0
Toughest Game: November 30 at Michigan
Don't Sleep On 'Em Game: September 14 at Cal (There's a massive gap in talent between these two, but heading out west to play, especially early, is never easy).
Biggest Strength: Quarterback (Many places to go here, but Ohio State's hope for a dream season falls on the arm and legs of Braxton Miller. He's going to be much improved, which is terrifying for everyone else).
Biggest Weakness: Wide receiver
Breakout Player: Noah Spence, DE (After a solid freshman season, the sophomore is going to destroy everything in his path).
Season Synopsis in 140 Characters or Less: The bowl ban has been lifted, the team is loaded, the schedule is not and expectations are enormous. This is going to be fun.
If It Were an Alcohol It Would Be… A freshly tapped keg on game day.
The brand of beer does not matter. It is game day and a new steel drum has just been christened. The foam situation is immaculate for drinking, the sun is out, the music is perfect and the company around you is somehow ideal. You have reached your optimal tailgating experience, and you must cherish it. These moments are special.
Until it is gone. Then just go get another keg.
Continue Reading: Big Ten Football: Predictions, Analysis and Out-There Assessments for 2013