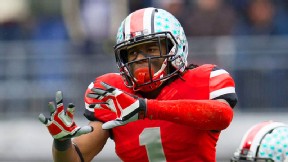 COLUMBUS, Ohio — Nationally, Bradley Roby is a first-teamer with an All-American honor to show for it last season.
But on his team at Ohio State, he's currently just a second-string cornerback.
Ohio State coach Urban Meyer still hasn't announced a punishment that could conceivably include Roby missing a game or two after his arrest for an incident in an Indiana bar last month. But if his practice reps during Wednesday's open workout are any indication, the Buckeyes are either planning for life without him for a few weeks, sending a message that no spot on the roster is set in stone — or both.
"I feel like it's a humbling experience for him," senior safety Christian Bryant said. "Just him stepping down with the twos right now, I feel like it's to show an example just because he was a starter last year and nothing is guaranteed.
"I feel like he's doing a pretty good job of taking that role, understanding what he needs to do and showing the young guys that he doesn't have a problem with it."
However, Roby is still causing some issues for quarterbacks and receivers. While he may have looked out of place with the reserves, the redshirt junior continued to produce the kind of plays that earned him so much attention last fall.
Twice in the red zone he flashed the speed and instincts that make him so dangerous to passers by jumping routes, including one leaping interception of a pass near the sideline from backup quarterback Kenny Guiton. The other breakup could have easily been a pick as well, and after muffing the grab, Roby immediately dropped to the turf and cranked out 10 pushups to punish himself.
Continue reading this article at ESPN: Punishment pending, Roby on second team