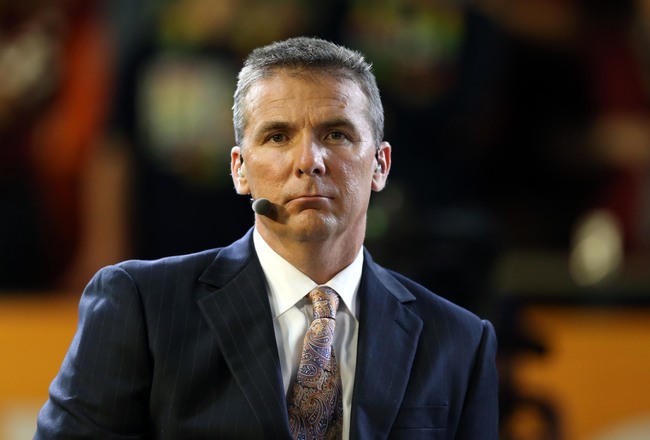 Matthew Emmons-USA TODAY Sports
Urban Meyer has proven he can dominate the best conference in college football, playing in the SEC Championship Game three times in four years and winning two of those games with Florida.
He came to Ohio State in 2012 and led the bowl-banned Buckeyes to their first undefeated season since 2002.
There aren't many ways OSU can improve on that short of another undefeated season, so complacency is a bit of a concern.
But with Meyer, complacency doesn't seem like it will happen, and he should be able to help the Buckeyes overcome a letdown.
Based on his SEC experience, here are three reasons why.
Bracing for Tough Road Tests
Life in the SEC is extremely difficult, with nearly every road game being a humongous challenge.
It's not quite the same in the Big Ten, but the Buckeyes do have a few tough road games to prepare for this season. OSU must travel to Cal, Northwestern and Michigan among other places this year.
The experience Meyer gained from playing in venues like LSU, South Carolina and Tennessee on a regular basis was invaluable and should translate well to OSU.
Great teams win on the road, and Meyer knows how to get his teams prepared to do just that.
Continue Reading: 3 Ways Urban Meyer's SEC Experience Will Help the Buckeyes Avoid a Letdown