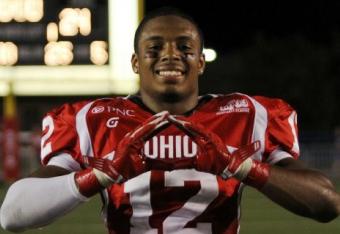 Ohio State sophomore cornerback Najee Murray will not be kicked off the team after all. Instead, he will be suspended indefinitely to begin the upcoming season.
Sources told Eleven Warriors during the weekend that Murray had been dismissed from the team for violating team rules. However, head coach Urban Meyer cleared up the report on Sunday by saying the defender will be suspended for "a training camp issue," according to Eric Seger of The Lantern.
Murray played in six games last season as a freshman, and most of that playing time came on special teams. He finished the season with three tackles and was expected to play a similar role this year with the Buckeyes looking to improve in that area.
Continue Reading: Ohio State CB Najee Murray Will Be Suspended, Not Dismissed