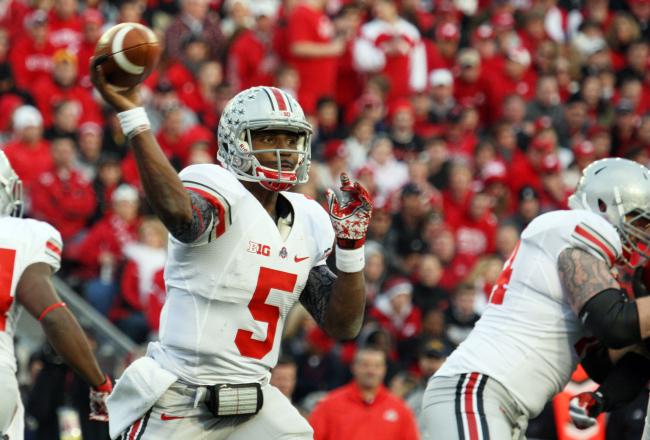 Mary Langenfeld-USA TODAY Sports
A new and improved Braxton Miller, a deep wide receiver corps and the addition of dynamic freshman Dontre Wilson will help the Ohio State Buckeyes' passing game make huge strides in 2013.
Those factors will add a crucial element to a football team that was perfect in the win-less column a season ago. While that's a promising thought for Buckeyes Nation, it will undoubtedly strike fear into opposing defensive coordinators throughout this season.
Last season, Ohio State ranked just 101st in the nation in passing, averaging 181.5 yards through the air.
Coach Urban Meyer's spread offense will move players around, create mismatches against defenses and then run the football right between the tackles once the openings are there.
The obvious key to Meyer realizing his vision of a revamped passing game starts with quarterback Braxton Miller's offseason improvements as a passer.
Miller's Progression as a Quarterback
The Ohio native hasn't been ineffective as a passer, just inefficient at times. As a sophomore, Miller improved in every statistical category, finishing with 15 touchdowns, six interceptions and over 2,000 yards passing. Still, he completed just 58.3 percent of his attempts.
Continue Reading: Ohio State Football: Biggest Keys to Revitalizing Passing Game