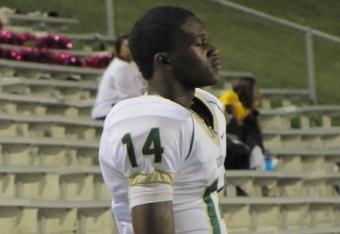 Ohio State's offense led the Big Ten with 37.2 points per game last year, but the coaching staff felt the Buckeyes operated at about 60 percent due to the lack of a game-breaking playmaker to complement quarterback Braxton Miller.
Dontre Wilson, the do-it-all freshman out of DeSoto, Texas, is hoping to provide that extra 40 percent.
The former 4-star prospect has surprised his teammates with his skill during summer and fall camps. It's hard to find a member of the Ohio State football program who isn't itching to sing Wilson's praise.
Miller was the first to do so at Big Ten media days, according to Doug Lesmerises of The Cleveland Plain Dealer, noting that Wilson's versatility and speed set him apart:

I feel like he better be starting this year. He can run any route, he can come in the backfield and take a handoff. … He can catch the ball and he bolts like a little fish running from the sharks or something. He's fast man. I'm glad to have him on my team.
Per Lesmerises' article, safety Christian Bryant expanded on Wilson, saying he's a "special player."
Meyer, who at the time hadn't seen his freshman phenom in person, caught wind of what his players were saying and tried to cool the jets.
"We've got to slow down on Dontre," Meyer said. "We've gotta slow down."
Continue Reading: Ohio State Football: Dontre Wilson Ready to Shine for the Buckeyes