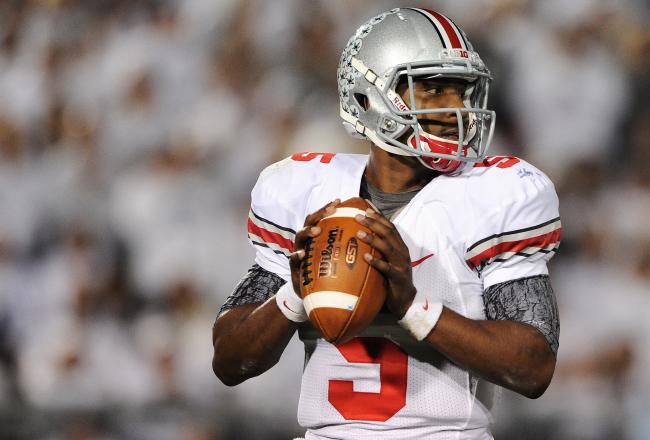 Braxton Miller is working hard to improve as a passer.  Patrick Smith/Getty Images
Ohio State offensive coordinator Tom Herman has a number of goals for quarterback Braxton Miller, but his top priority is to turn the Buckeyes' signal-caller into "the best fundamental quarterback in the country," according to TheLantern.com.
It's too early to tell whether Miller has reached that point, but early returns from fall camp indicate that Ohio State's junior quarterback has made tremendous strides as a passer this offseason.
Evidence of that came from Urban Meyer during Ohio State's media day on Sunday. Meyer praised both Herman and Miller, according to Bob Hunter of The Columbus Dispatch.
I've got to be careful because I just glow on him. I love Braxton Miller. Him and Tom Herman have something really special going right now. You can see it on the field. You can see his maturity.
Miller developed a number of bad mechanical habits early, mainly in his footwork, that prevented him from being the quarterback Herman wants him to be. Despite his flaws, Miller still managed to set a single-season school record for total yards, doing so in just 12 games last season.
Miller acknowledged that he's just scratching the surface of his vast potential.
Continue Reading: Ohio State Football: Braxton Miller Showing Improvement in Fall Camp