COLUMBUS, Ohio — It is hard to imagine a team coming off of an unbeaten season and still having a chip on its shoulder, but that is the unique position the Buckeyes find themselves in as they prepare for 2013.
The clock stopped for Ohio State when the Buckeyes hit 12-0 last November, after running the table on the regular season and the Big Ten. Due to NCAA sanctions slapped on the program due to the violations during the Jim Tressel/Terrelle Pryor era, Ohio State was barred from any post-season play, so no trip to the Big Ten title game, or the BCS National Championship.
That leaves this group bitter, and angry, and mean. For a team that has not lost a game since the second day of 2012, this bunch is punchy, and that seems to be just what second-year head coach and Ohio native Urban Meyer is looking for.
"The one thing we are doing — is we are going to find out who is going to play," Meyer said at one of the Buckeyes' first hitting sessions of fall camp. "The focus right now is I want to see who will go really hard."
The early returns suggest that Meyer will have plenty of playmakers to choose from. His Buckeyes are the overwhelming favorite to win the Big Ten title this season, and they are usually ranked second nationally, behind defending BCS champ Alabama.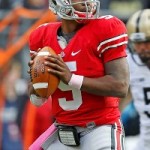 The most obvious asset on hand is QB Braxton Miller, a legit Heisman candidate who made everyone forget about Pryor in a hurry. Miller's comfort zone in the Meyer spread offense allows him to flourish, but what will make Miller so dangerous is Ohio State's most bankable asset — a very experienced front line.
The guys in the trench have played in 132 games and made 78 starts between them. Returning starters LT Jack Mewhort, C Corey Linsley, LG Andrew Norwell and RG Marcus Hall are all cut from all-conference cloth. This offense should explode with Miller at the controls and a dominant wall controlling what is in front of him.
"This year we know what to expect," Hall said about the second camp under Meyer. "It is always spontaneous with coach Meyer, but we know that is his style so, while we know what to expect, he still keeps us on our toes."
The Buckeyes still have turmoil and distractions to deal with — starting RB Carlos Hyde and DB Bradley Roby will both miss games at the start of the season due to suspensions for summer transgressions — but there does not appear to be anything on the schedule that will knock the chip off the shoulder of this team, despite the disciplinary moves.
Continue Reading: Big Ten preview: Ohio State