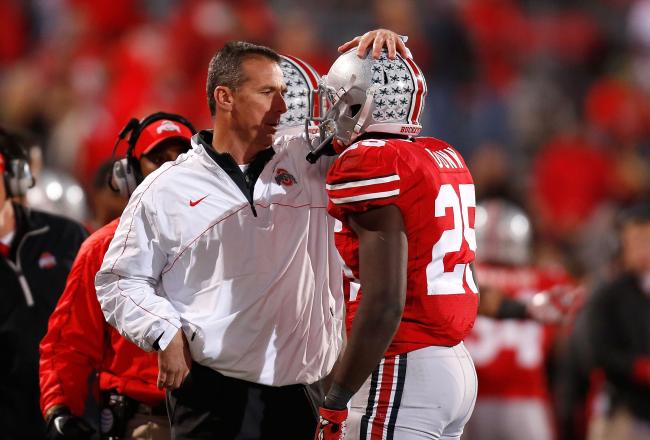 Kirk Irwin/Getty Images
Ohio State's running back depth will be tested early after senior RB Carlos Hyde was suspended for at least the first three games of the 2013 season. Hyde rushed for just under 1,000 yards in 10 games played in 2012 and scored 16 touchdowns on the ground.
While Jordan Hall and Rod Smith will likely split most of the carries in Hyde's absence, his suspension could also open the door for sophomore Bri'onte Dunn to get some important carries as well.
Dunn runs very similarly to Hyde, showcasing a tremendous amount of power with an underrated burst of speed.
Power running is not typically associated with the Urban Meyer spread offense, which in the past was predicated on speed and quick tempo. But when Meyer came to OSU, he adopted more of a power run game led by Hyde, who is 242 lbs. Dunn is a shade lighter at 222 lbs., but runs with the same downhill mentality.
As a freshman, Dunn rushed 25 times for 133 yards and three touchdowns, 73 of which were against Illinois on Nov. 3 last year. He only had carries in three games, but some of that had to do with him being a true freshman last season playing behind three upperclassmen.
In a way, Dunn is still behind Hall and Smith. But Hall has been battling injury problems, while Smith had fumbling issues that could still create problems in the future.
Should those two have problems, Dunn could step up and fill in for Hyde because of how similarly they run.
Continue Reading: How Bri'onte Dunn Can Grow into an Impact Player in Carlos Hyde's Absence