There is a school of thought that says the Ohio State Buckeyes would have won a national championship had it not been for tattoos. Or Jim Tressel. Or school administration's decision not to self-impose a bowl ban for the 2011 season rather than allowing the NCAA drop the ban hammer a year later.
Whatever justification anyone wants to give, the prevailing thought in Columbus is that the Buckeyes left something on the table in 2012. Left something damn good.
When the clock struck zeroes at the 2013 BCS National Championship Game, Alabama was crowned national champion for the second straight season and the third in four. Most anyone you speak with would agree that Nick Saban's Tide were again the most dominant force in college football, boasting one of the best offensive lines in the sport's history and a massive roster of NFL talent.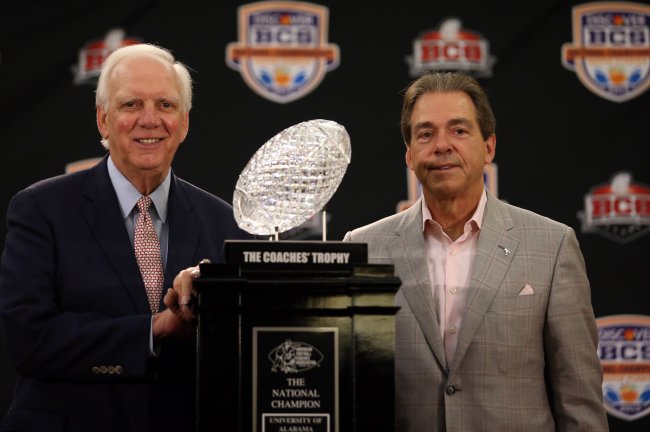 Streeter Lecka/Getty Images
But it's at least an interesting hypothetical to wonder whether Saban's boys would have even made the title game if it weren't for the beta version of the Johnny Manziel scandal.
There were two undefeated teams when college football's regular season ended: Ohio State and Notre Dame. There was one undefeated team when college football's bowl season ended: Ohio State. While it's true that the Buckeyes would have needed to win the Big Ten title game, Nebraska didn't exactly remind anyone of the classic Blackshirts in that contest.
It's impossible to know for sure that Ohio State would have won. It's also impossible to know whether the BCS manatees would have deemed the Buckeyes more deserving than a mighty SEC team. These hypotheticals are always impossible.
But outside of the Crimson Tide, there is no team in the nation with more title-game shippers this preseason than the Buckeyes. Urban Meyer's team may not have hoisted a Big Ten or national championship last season, but it stands a little more than a fortnight away from its season opener with the expectation of a repeat performance.
Continue Reading: Ohio State Football: Title Hopes Rest on Improved Defense and Dodging Trap Games