Michigan and Ohio State are two of the biggest rivals in college football, and that rivalry routinely spills over to the recruiting trail. Both programs have constructed excellent recruiting classes, as they are ranked in the Top 10 of 247Sports' recruiting rankings.
Fans of the dominant Big Ten programs intensely debate over which is the superior program, but the debate now also includes who has the better 2014 recruiting class.
Ohio State's 2014 Recruiting Class Capsule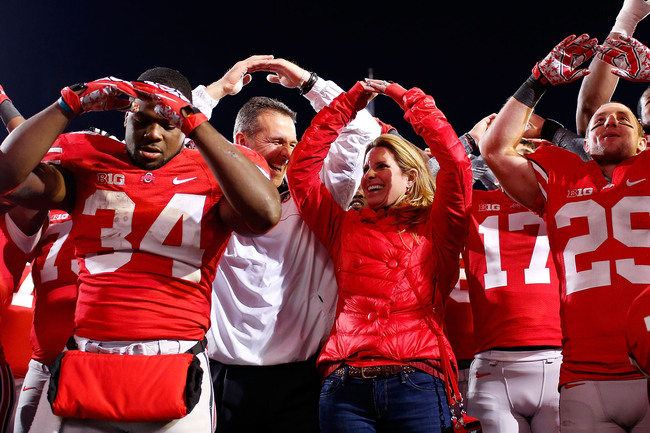 Kirk Irwin/Getty Images
The Buckeyes have 16 commitments, with 10 being 4-star recruits and six being 3-star pledges.
Ohio remains the main source of talent, but Ohio State continues to pull in talent from across the Midwest, as six commitments are from neighboring states.
Head coach Urban Meyer has also moved Ohio State's recruiting reach deeper into SEC country. States such as Georgia, Kentucky, Texas and Virginia are represented in Ohio State's recruiting class.
Offensive line is the emphasis of the class with four commitments, though each position has at least one pledge, including kicker.
Michigan's 2014 Recruiting Class Capsule
Gregory Shamus/Getty Images
Michigan has an outstanding collection of talent with commitments from 16 prospects, including one 5-star recruit.
Big Blue has seven 4-star commitments to go along with eight 3-star pledges. Keeping players home remains the focus for the Wolverines, as the state of Michigan leads the class with four commitments.
Other states such as Pennsylvania, Illinois and Ohio are also represented in Michigan's recruiting class. However, head coach Brady Hoke has taken advantage of the Wolverines' ability to recruit on a national level.
Hoke has taken talent from states such as Florida, Utah, New Jersey, Maryland and Virginia.
Michigan has nine commitments from defensive players, with each level possessing three prospects.
However, adding receivers has been the main objective of the class thus far, as four commitments are from pass-catching recruits.
Continue Reading: Michigan vs. Ohio State: Whose 2014 Recruiting Class Is Better Right Now?