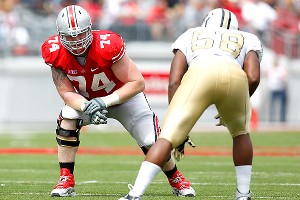 OFFENSIVE LINE
Top of the depth chart: From left to right, Jack Mewhort, Andrew Norwell, Corey Linsley, Marcus Hall and Taylor Decker
Next in line: The backup spots don't have to be quite as precise given the flexibility of some reserves capable of playing multiple spots, with Chase Farris likely the first man up if injuries strike at either guard or tackle. Darryl Baldwin has impressed during training camp and provides depth on the edge, and Pat Elflein has emerged as a viable option on the interior. Jacoby Boren spent time filling in for Linsley when he was injured during spring practice and early this month, and the sophomore's work ethic and family history with the program is well documented.
New faces: The Buckeyes didn't do much to restock the cupboards with the most recent signing class, and a class of blockers that only included two names dropped to one this season when Tim Gardner was sent home following an off-the-field incident. That leaves just Evan Lisle, who has shown some potential but would likely benefit from a year to develop on the sideline before getting thrown in the mix.
Recruiting trail: With four seniors set to move on from the program after this season, coach Urban Meyer made it clear since signing day in February that he has to bring in a strong class of linemen to pave the way for the future. He would have liked to have done that in 2012, obviously, but he's off to a strong start with the next group after getting pledges from ESPN300 picks Jamarco Jones (Chicago/De La Salle) and Demetrius Knox (Fort Worth, Texas/All Saints Episcopal). The Buckeyes also have commitments from tackles Kyle Trout (Lancaster, Ohio/Lancaster) and Marcelys Jones (Cleveland/Glenville), reinforcing the importance of targeting the line in the 2013 class.
Flexibility: Returning four senior starters doesn't leave much room for movement on the first unit, and the strong start to camp for sophomore Taylor Decker erased the only real question mark heading into the opener. Farris and Baldwin have each been able to push for work at times at right tackle, but Decker's brute strength and knowledge of the game has given him a leg up and given line coach Ed Warinner little to worry about with his starting unit.
Continue reading this article at ESPN: Position preview: Offensive line