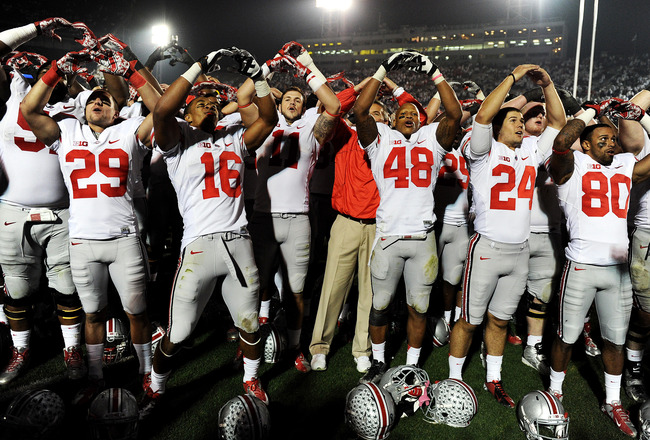 Patrick Smith/Getty Images
The road to fall rolls on for the Ohio State Buckeyes as they are about two weeks away from the start of the 2013 season.
Fall camp is in its second week as the depth chart starts to shake out ever so slowly. Different names continue to emerge as others suffer difficult setbacks.
It's all part of the nature of college football and something every program goes through, no matter how big or small.
Two weeks into fall camp, here is the latest stock report for the Buckeyes.
Stock Up: WR Evan Spencer
Evan Spencer is the forgotten man in the Ohio State receiving corps, yet he has produced his fair share of highlight reel-worthy catches in his short career.
He is expected to be the third receiver in the offense behind Corey Brown and Devin Smith.
But with freshmen like Dontre Wilson breathing down his neck, Spencer has responded positively by having an outstanding fall camp.
Urban Meyer will need Spencer to step up and be a productive third wideout to take pressure off of Brown and Smith, who will garner tremendous attention in the passing game.
Continue Reading: Ohio State Football: Week 2 Fall Practice Stock Report