Though most of the preseason Heisman hype is focused on SEC players such as Jadeveon Clowney, Johnny Manziel and A.J. McCarron, the athlete who has the best chance of winning the bronze statuette hails from the Big Ten.
Sure, no Big Ten player has won the Heisman since Troy Smith did in 2006, but that's all about to change with Ohio State's quarterback, Braxton Miller.
Miller has the perfect combination of proven results, potential and opportunity to be deemed most likely to make an acceptance speech at the Best Buy Theater in New York City's Times Square this December.
Skill Set/Stats
Five of the last six quarterbacks to win the Heisman were dual-threat talents.  This bodes well for Miller, who was the No. 1 ranked dual-threat prospect from the class of 2011.
Over his first two seasons, Miller consistently put up the type of stats to make his upcoming junior year look like Heisman material.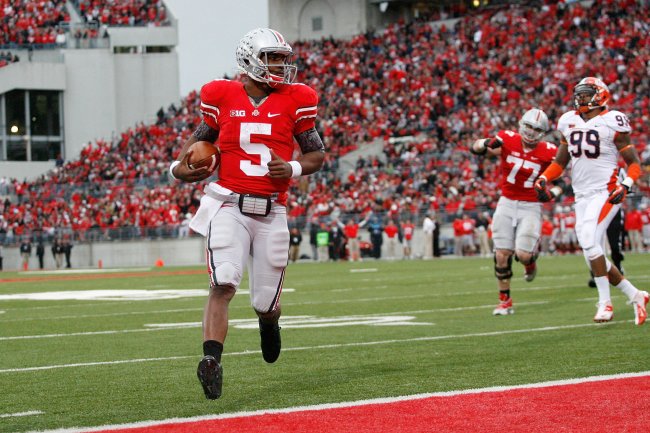 Kirk Irwin/Getty Images
As a freshman in 2011, Miller threw for 1,159 yards and 13 touchdowns and ran for an additional 715 yards and seven scores.  These numbers improved to 2,039 yards and 15 touchdowns passing and 1,271 yards and 13 scores rushing as a sophomore in 2012.
This made Miller 65 percent responsible for the Buckeyes offense last season.  To put this into perspective, Texas A&M's Johnny Manziel accounted for 70 percent of the Aggies offense in 2012, and Auburn's Cam Newton pumped out 61 percent of his team's attack three years ago.
Based on the previous decade of winners, big offensive numbers will be a requirement for the Heisman, and Miller is in a perfect position when considering his statistics.
Continue Reading: Why Braxton Miller Is the Real Heisman Trophy Favorite for 2013