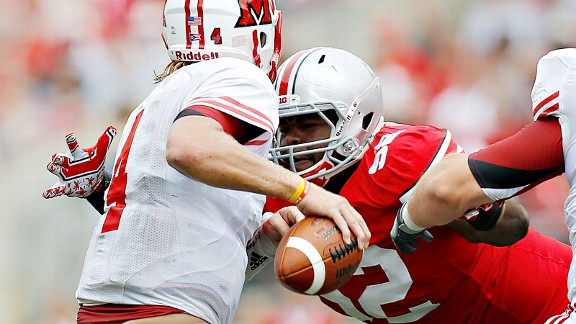 Kirk Irwin/Getty Images Ohio State defensive lineman Adolphus Washington didn't make a huge impact as a freshman but expect much more production in 2013.
COLUMBUS, Ohio — The brotherly bond, a seemingly perfect partnership didn't exactly happen instantaneously.
Before moving in together, before competing relentlessly against each other, before becoming potential cornerstones of a rebuilt Ohio State defense, the first thing Adolphus Washington had to do was figure out why exactly Noah Spence was trying to get in contact with him.
"It was like the day he committed, he hit me up on Facebook and I didn't really think it was Noah Spence," Washington said. "I was like, 'How does he know who I am?'
"But since that first day when he hit me up, we talked almost every day, at least every other day, about the future at Ohio State. Now, we're actually living out that dream."
In their new reality as starters and potential pass-rushing pillars of a team expected to follow up an unbeaten season by contending for a national title, Washington and Spence have only become closer as time has passed and expectations have soared since their initial introduction.
And while their names might not be that well known across the country yet, both players appear poised to help the nation get acquainted with them this fall thanks largely in part to all the pushing and prodding Spence and Washington demand of each other.
Continue reading this article at ESPN: High hopes for DL Spence, Washington