The kid gloves are off as far as Urban Meyer is concerned with quarterback Braxton Miller, and that's a good thing.
Meyer recently discussed his plans to expand the offensive playbook this season, as noted by David Briggs of the Toledo Blade. Apparently, Miller and the explosive Buckeyes offense were held back by a scaled-back playbook in 2012.
If you look at our offense last year, we were a pro offense. There were not a lot of read components … which is kind of the essence of what spread football is. That really didn't exist for us.

We even did some single-wing, which means a direct snap to the quarterback, and one of our best plays was the quarterback counter because he's our best player. You'll see a different style of offense this year.
Meyer is known for running one of the most effective spread offenses in the nation.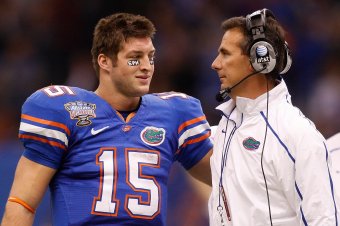 He turned Kansas City Chiefs quarterback Alex Smith into a No. 1 overall pick during his time at Utah, and then, he performed one of the greatest feats of illusion known to mankind by turning Tim Tebow into college football royalty and an exceptionally efficient quarterback.
While Smith has learned how to become a proficient starting quarterback in the NFL, he has some serious limits to what he can do as a passer, and Tebow is one the worst passers to ever put on an NFL uniform.
Continue Reading: Ohio State Football: Braxton Miller Will Thrive Under Urban Meyer in 2013