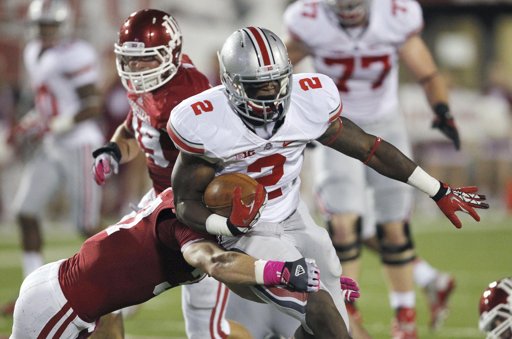 COLUMBUS, Ohio (AP) — While Armani Reeves spoke to a semicircle of reporters after a recent Ohio State practice, the person he was discussing was about 50 feet behind him seated in an ice bath cooling off after another hot day of work.
The distance was more than a little symbolic.
Bradley Roby, the Buckeyes' standout cornerback, isn't doing any talking these days, at least not publicly. He also isn't even practicing with the first team.
Roby, like fellow stars Carlos Hyde, the Buckeyes' leading scorer last year, and Hyde's top backup, Rod Smith, is suspended for the opening game, Aug. 31 at home against Buffalo.
All got into trouble. All are paying a price.
Some fans think it's a high price since no one was hurt and there were no serious charges. Others believe the matters have been swept under the scarlet-and-gray rug outside coach Urban Meyer's office.
Players like Reeves will carry the load for the Buckeyes.
"I was always willing to be a hard worker on and off the field," said Reeves, tabbed to start at Roby's cornerback spot. "I still learn from the older guys like (Roby). Whether the situation is good or bad I'm just going to take advantage of any opportunity I have and play to the best of my abilities."
Ohio State's coaches spent nine months making plans to fill the holes left from last year's 12-0 team.
Now, with the opener just over a week away, they must come up with three more replacements.
Hyde will miss the first three games after an alleged assault against a woman. Roby will sit out at least the opener after a skirmish at a bar in Bloomington, Ind. Rod Smith, who was expected to take Hyde's spot, was benched for the first game after a violation of team rules last winter.
Roby's penalty is open-ended because his court case has not been finalized. Charges have been reduced and he's been offered a deal by the prosecutor that the misdemeanor assault charge will go away if he stays out of trouble in the future. But it's still unresolved.
"He'll be suspended one game just because there's an issue," Meyer said. "I'll make a further determination once (it's completed). … I don't think it's done."
There are worthy candidates – like Reeves – in the wings. But it's still not the ideal way to go into a season.
Hyde and Smith will likely be replaced by a committee: H-back Jordan Hall, second-year players Bri'onte Dunn and Warren Ball and freshmen Dontre Wilson and Ezekiel Elliott. Wilson has been the talk of camp, with water-bug moves and incredible speed.
Continue Reading: No Roby, no Hyde, no Smith means Buckeyes adapt