Entering the 2013 college football season, few teams are facing expectations as large as those placed upon the Ohio State Buckeyes. Ohio State is riding their star-powered offense to earn rankings of No. 2 overall in both the preseason AP and USA Today Coaches Polls.
The question is, which offensive stars will turn heads in 2013 and lead the Buckeyes to championship contention?
It's no secret that the Buckeyes know how to run up the score, as they averaged 37.2 points per game in 2012, per Sports-Reference.com. During that time, they topped 50 points in four separate games and were held to less than 29 points in just three games.
In other words, Ohio State can light the scoreboard up with the best of them.
Come 2013, however, Urban Meyer's crew will not have the luxury of sneaking up on teams as a squad on probation from the postseason. Instead, the Buckeyes' vaunted offense will be the focus of every opponent and writer in the nation.
Here are the players who will make it flourish.
Philly Brown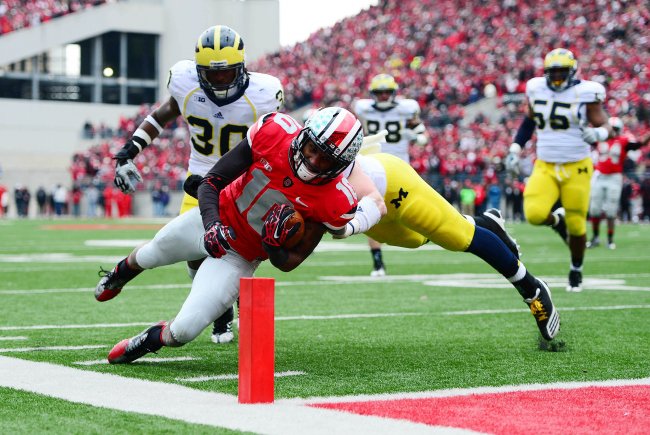 Andrew Weber-USA TODAY Sports
Position: Wide Receiver
Class: Senior
2012 Season Statistics
60 REC, 669 YDS, 3 TD; 10 ATT, 93 YDS, 1 TD; 18 PR, 221 YDS, 2 TD
The key to the Buckeyes' offense is their ability to run the football, as evidenced by their plethora of running backs and average of 242.3 yards per game on the ground. With that being said, Ohio State will need to air it out at times in 2013 and their receivers will need to step up.
When it comes to which player will be Urban Meyer's Percy Harvin, you can look to Philly Brown.
Brown was lightning in a bottle during the 2012 season, catching 60 passes for 669 yards and three touchdowns. He also ran the ball 10 times for 93 yards and a score and took two punts back for touchdowns.
That's what you call big-play ability.
In 2012, Brown will be trusted to continue his quality play both as an explosive playmaker and possession receiver. While Ohio State is expected to depend heavily on the run, Braxton Miller's development as a passer will determine how far this team goes.
It's on Brown to catch the passes sent his way and continue producing in a versatile manner.
Jordan Hall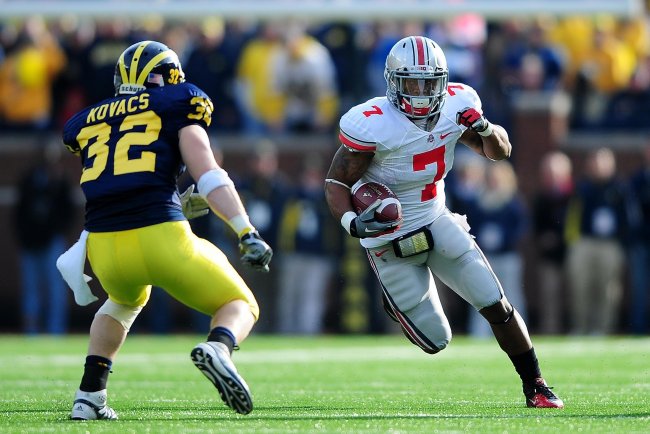 Andrew Weber-USA TODAY Sports
Position: Running Back
Class: Senior
2012 Season Statistics
3 GP, 40 ATT, 218 YDS, 1 TD
Senior running back Jordan Hall was supposed to be the starting running back in 2012, but injuries sidelined him and Carlos Hyde made his name. Now, with Hyde facing an early-season suspension, Hall will have the opportunity to start, once again.
Expect big things.
During his only two games as a starter from the 2012 season, Hall ran for 192 yards on 34 carries. One week later, Hall picked up 26 yards and a touchdown on six rushes, but ended up suffering a season-ending knee injury.
Assuming he remains healthy, Ohio State will unveil one of the most dangerous weapons in all of college football.
Hall has averaged 4.6 yards per carry during his four-year career at Ohio State, also proving to be a dangerous receiver. With Hyde serving as more of a power runner, Hall will be used as both a check-down and screen-pass receiver and big-play runner.
Should he shine against Buffalo during their Week 1 clash, Hall may even earn himself a split of carries as the Hall and Hyde tandem carries Ohio State's running game towards a national title.
Continue Reading: Ohio State Football: Offensive Stars Who Will Turn Heads in 2013