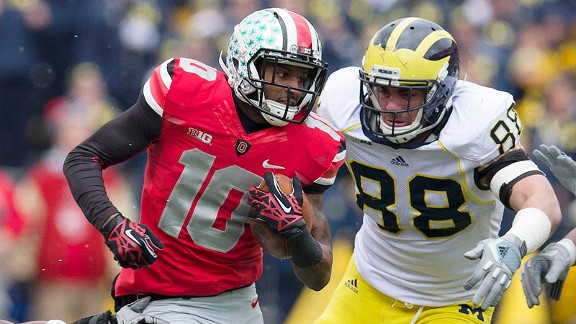 COLUMBUS, Ohio — Zach Smith won't shield his unit from criticism, and it received plenty for the issues of a struggling passing attack a year ago.
But for all the problems that the Ohio State receivers coach is quick to point out, he's not going to make them shoulder all the blame, either.
The pass protection was far from perfect, and the Buckeyes allowed too many sacks. Braxton Miller is a truly unique weapon at quarterback, but his decision-making and accuracy as a sophomore left plenty to be desired. As dominant as the rushing attack was last season, perhaps the tailbacks could have been a bit sharper at picking up blitzing defenders when Ohio State was trying to air it out.
Those areas of improvement aren't pointed out to absolve the receiving corps, and neither Smith nor coach Urban Meyer have ever sugarcoated their feelings about a group they have publicly labeled as "dysfunctional" and a "clown show."
It does, however, offer a reminder that it takes more than crisp route-running and steady hands to put on an aerial show. But based on the lack of jokes at their expense during training camp, it appears the wideouts have done everything they can to avoid coming in at No. 1 on the list of things holding back the spread offense.
"Every group had their deficiencies in that area, and the wide receivers probably most contributed," Smith said. "But there's been definite commitment to improving that.
"I think it's been a long process. It's not something that could have happened overnight, and I think where we're at right now, 'OK, we've taken a step, we're no longer dysfunctional — now let's go be the best receiver unit in the country.' "
Continue reading this article at ESPN: Receivers get a grip on Buckeyes offense