After an undefeated season with Urban Meyer leading the way, the Ohio State Buckeyes are looking to run the table again in 2013 and reach the BCS National Championship game.
On paper the road looks simple for Ohio State. The team is returning star quarterback Braxton Miller and should be considered the favorite in the majority of its games.
The problem for Ohio State's dreams of going undefeated again lies in the fact that so much talent left Columbus last year. Gone are Jake Stoneburner and Reid Fragel. Defensive linemen John Simon, Garrett Goebel, Jonathan Hankins and Nathan Williams are gone. Corner Travis Howard left as well.
The biggest key for Ohio State to repeat is to have newcomers excel in their new roles while replacing the old guard. With Urban Meyer handling the recruiting there is plenty of talent littered around the roster. It's the chemistry and execution of said talent that will put the team over the top.
Here are three players primed for breakout years now that they have an opportunity to shine.
Noah Spence, Defensive End

Last year the aforementioned John Simon led Ohio State with nine sacks in 11 contests. Now that he is out of the way, the Buckeyes are looking to find that production from sophomore defensive end Noah Spence.
They just might get it too.
Spence was lucky to see eight snaps per game last year on a rotational basis thanks to the talent in front of him, but he still turned the opportunities into 12 tackles and a sack.
The former 5-star and No. 2 defensive end prospect in the country is going to see every-down action in 2013. Spence will start at the Leo position on the weak side where he can either rush the passer or drop back into coverage.
Spence most recently put up three sacks in the annual Scarlet and Gray game. Expect the 6'3″, 247-pound sack specialist to have a few games like that next season.
Adolphus Washington, Defensive End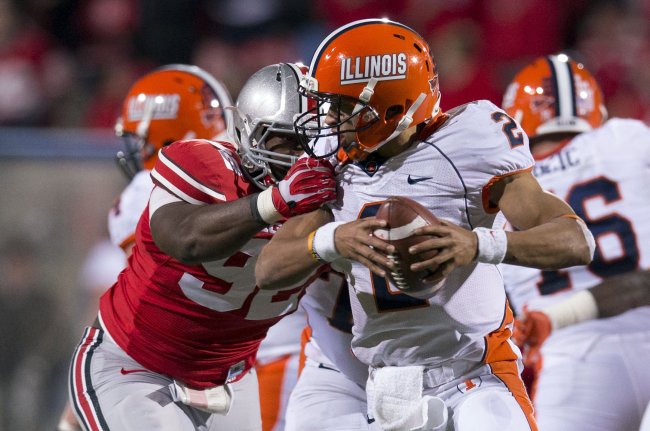 Greg Bartram-USA TODAY Sports
Spence is not the only former 5-star recruit heading into his sophomore season set for more playing time than ever.
Adolphus Washington had a solid year as a freshman, also only seeing about eight snaps per game thanks to the logjam of talent in front of him. Like Spence, he made the most of his time with nine tackles and three sacks.
Washington plays on the strong side and comes in close to 300 pounds, so he will be expected to help contribute against the run as well as rush the passer. He does plenty of both and recorded four sacks of his own in the Scarlet and Gray game.
Paired with Spence, Washington could allow the Buckeyes to have the best defensive line in the nation. As sophomores both are set to begin major breakout seasons.
Continue Reading: Ohio State Football: 3 Buckeyes Primed for Breakout Seasons