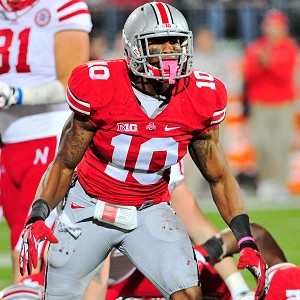 COLUMBUS, Ohio — No matter how much confidence Urban Meyer has expressed in the personnel and his coaching staff, there's obviously still one area that has his attention and perhaps leaves some reason for concern.
Even his only holdover at linebacker isn't so sure of what exactly Ohio State has in the middle of the defense just a few days out from the season opener.
Ryan Shazier is certainly a sturdy cornerstone to begin a rebuilding project for any defense, and the junior linebacker has had nothing but positive reviews for the two new starters breaking into the lineup with him on Saturday at home against Buffalo. But just like his coach, that doesn't mean there isn't some uncertainty for a unit that will be under intense scrutiny.
"I feel like the biggest concern right now is we have a lot of inexperience in the front seven and a lot of young guys," Shazier said. "So when you've got a lot of guys who haven't played together, it's kind of a struggle.
"I have to try to get [the linebackers] right. Everything else, I feel like the defensive line is doing a great job, the secondary is doing a great job, I've just got to get the linebackers right. We really aren't right now, but I just have to get everybody ready for this first game."
Shazier isn't going to be held directly responsible for what Curtis Grant does in the middle or Joshua Perry does at strongside linebacker, but he has put the pressure on himself to get them up to speed as a thin group of linebackers tries to get back to the traditionally high standard the Buckeyes hold for the unit.
Continue reading this article at ESPN: Linebackers under scrutiny in OSU opener