COLUMBUS, Ohio — Breaking down the positions and players who have the most to prove as No. 2 Ohio State opens the season on Saturday against Buffalo (TV: ESPN2, noon).
FIRST DOWN: Defensive tackles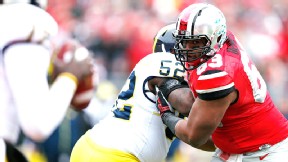 The broken bone in Tommy Schutt's foot has thrown another wrench in the rebuilding project for the Buckeyes up front, and they reacted to it swiftly by shuffling Chase Farris back over to defense from the offensive line.
Schutt wasn't listed as a starter on the depth chart for the opener, but the sophomore impressed in limited action last season and had turned in a productive training camp before the injury bug bit him again on Monday. The Buckeyes know what life is like without Schutt after ankle issues limited him throughout spring, but for a unit that is replacing all four starters, having everybody healthy and ready to contribute was obviously important.
Ohio State has no shortage of confidence in Noah Spence and Adolphus Washington at end, but in some respects Joel Hale and Michael Bennett are still unknown quantities despite having been in the program for a couple years. Now with Schutt out and Farris moving to fill the void, the pressure is ramped up for a newcomer such as Michael Hill or sophomore Chris Carter.
SECOND DOWN: Freshmen skill players
The Buckeyes have no shortage of pieces returning from the Big Ten's best offense a season ago, but it's the fresh additions that figure to allow Urban Meyer to truly unleash his spread attack this fall.
They still have to prove themselves in a game though, and Dontre Wilson, Ezekiel Elliott and Jalin Marshall are all likely to touch the ball a few times as the Buckeyes evaluate what they have in what is shaping up to be an offensive class capable of making an early impact.
Wilson, in particular, could get his hands on the football right away with Ohio State trotting him out to return kickoffs. His electric speed could be put on display early, but the Buckeyes will really be watching him closely in the H-back role as they try to add more diversity to the playbook.
Continue reading this article at ESPN: Four downs: What to watch in OSU's opener