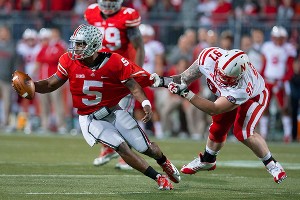 COLUMBUS, Ohio — Sometimes, in rare circumstances, simply scratching the surface is enough.
Sometimes, an athlete so gifted with physical ability comes along who leans on his natural talents, even without developing all the skills needed at his position, and finishes fifth in the voting for the most prestigious award in his sport.
Somebody still trying to absorb all of the intricacies of his position navigates a learning process without losing a game, operating with something of a stripped-down playbook.
A shy, humble guy, not accustomed to raising his voice and assuming command in the huddle the way a quarterback is traditionally expected to, can still drag his offense to more points than any other team in the conference.
Add it all up and you have what Braxton Miller provided Ohio State last season and, based on the sophomore version on display a year ago, he certainly appears more than capable of delivering the same type of results this fall.
But sometimes, in rare circumstances, simply scratching the surface isn't enough. Even nine months following the end of the season, with a grueling offseason behind them, the Buckeyes are still trying to figure out just how big the iceberg is underneath the tip they already chiseled off and how far their quarterback can take them.
If they don't know exactly how much more they can achieve, they certainly recognize how much deeper they are heading into this season. What does that mean for the program and its brightest star?
It's almost time to find out.
The routine is never entirely the same from year to year, but Tom Herman had even more incentive to freshen up his collection of drills heading into his second season as an offensive coordinator and quarterbacks coach at Ohio State.
The message had been delivered quite clearly, both publicly and privately, that Miller had a long way to go in terms of his fundamentals, and coach Urban Meyer was holding his assistants as responsible as the players themselves for addressing the issue.
Miller helped start the process of fine-tuning his footwork, pocket presence and accuracy with a trip to visit quarterback guru George Whitfield Jr. shortly after the season ended. Back on campus, Herman was scouring videos from around the country and talking with coaching colleagues in search of tools to add to his practice repertoire that would help clean up the problems that slowed down the Buckeyes at times a year ago.
"It didn't matter if it was a high school guy, if it was put out yesterday, if it was a college guy, NFL guy — if it was a drill that I thought could help us, I'd try to implement it," Herman said. "If the kids liked it or responded to it well, we kept doing it. If not, we would go back to the drawing board.
"I find myself just making a bunch of them up as we go, just trying to replicate as best you can what a quarterback has to go through, what he's not good at so we can make him better. Let's replicate the situation as best we can in a drill, which is hard for that position."
With a little bit of imagination, though, it can certainly be done.
Continue reading this article at ESPN: Ohio State Buckeyes Braxton Miller becoming a more complete quarterback