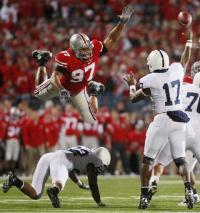 Former Ohio State defensive lineman Cameron Heyward was selected 31st overall by the Pittsburgh Steelers Thursday night in the 2011 NFL Draft at Radio City Music Hall in New York City.
Heyward becomes the 69th Buckeye overall to be drafted in the first round and the 17th since 2000 – the second most among FBS schools during that span. He also is the 74th Buckeye to be drafted overall since 2000, the most among any FBS school. He is the 14th first-round pick in the Jim Tressel era.
Heyward was a Playboy All-American, a Lombardi Award semifinalist and a Lott Trophy quarterfinalist in 2010. A first team all-Big Ten selection by both the coaches and the media in 2010, Heyward started 46 career games, totaling 163 tackles, 37.5 TFL and 15.5 sacks. At the team banquet in December, Heyward was awarded the Bill Willis Trophy from coaches as the team's outstanding defensive player in helping the Ohio State defense rank among the national leaders in several statistical categories.
A few quotes from the Steelers organization:
"I know it's a long evening, but we feel it was very worthwhile for us to be able to stick this out and pick a kid like Cameron Heyward," said Director of Football Operations Kevin Colbert. "We feel this is one of those special players, not only from a football standpoint, but this kid has impeccable character, work habits, toughness, you name it. It's hard to find a hole with this guy. He is a special player. He is a special person."
"The longer it went, the better we felt about our chances," said Colbert. "We got a guy we really coveted and we have all our picks remaining. I can't tell you how happy we are about this."
"There are a lot of reasons to like Cameron Heyward," said Coach Mike Tomlin. "He's got a four-year body of work, not a one or two-year body of work. We are very familiar with this guy, very familiar schematically both in terms of what we do and what he was able to do at Ohio State. We are just extremely excited about him. He's an impeccable young man, a really good football player. It's going to be awesome to put him in the mix with some other big-body young people we've been able to add in recent years – Ziggy Hood, Maurkice Pouncey and now Cameron Heyward. I really feel good about adding to our lines of scrimmage with solid young people early in the draft."
Rounds 2-3 continue Friday evening beginning at 6 p.m. ET while rounds 4-7 will take place Saturday beginning at Noon.