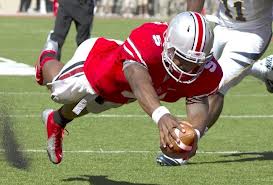 The Ohio State defense was supposed to be working on tackling this week. Obviously, there is still a lot of work to be done. The Buckeyes, in front of a crowd of 105,000 plus, left the fans yawning rather than cheering. For most of the game, it felt like the stadium was absolutely silent.
Braxton Miller of course was the star of the show for Ohio State. Running and throwing his way to another victory. Ohio State, now 4-0, will look back on this game and wonder if they are really ready for Big Ten play.
The defense wasn't horrific by most football standards, but for Ohio State, this is not a silver bullet defense. They are not nasty enough. There is too many missed tackles. Too many third and longs that were converted for a first down.
Braxton Miller rushed for a total of 64 yards on 11 carries. He threw for 143 yards on 12-20 passing. Jordan Hall had 17 rushes for 105 yards. Philly Brown had 4 catches for 67 yards.Devin Smith had 4 catches for 39 yards.
Ohio State's defense gave up a total of 403 total yards. UAB had the ball for a long time and the defense was clearly getting tired.
Ohio State will travel for the first time next week when they start Big Ten play against Michigan State. This will be a true test to see whether or not they can put all phases of their game together. Special Teams, Defense, and Offense will all need to be clicking next week in order to pull of the win in East Lansing. For now, we will take the 4-0 and hope to see major improvement on the defensive front, and hope for more consistency from the offense.