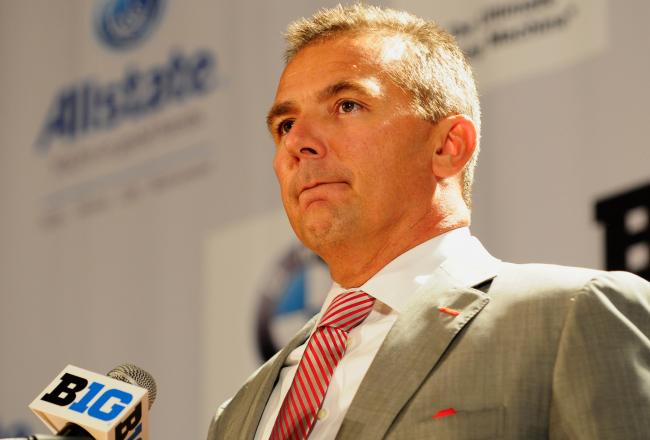 Reid Compton-USA TODAY Sports
Urban Meyer doesn't have much to worry about on the recruiting trail. He's one of the best of the best, and his name carries a ton of weight with recruits.
That said, if there's one coach in the country that is on Meyer's level, it would be Nick Saban of the Alabama Crimson Tide—and he's definitely a coach Saban needs to keep an eye on, especially if Alabama is coming after an Ohio State commitment.
According to Bill Greene of Scout.com, 4-star offensive guard recruit and Ohio State commitment Marcelys Jones has picked up an offer from Saban and the Crimson Tide:
The Cleveland Glenville offensive tackle has continued to add offers, and the 6-foot-4, 325-pound, lineman received a big one Wednesday.

"This is a big offer for me and I was surprised to get it, to be honest," Jones stated. "My principal came and got me out of class this morning and told me Alabama was on the phone. I spoke to one of their assistant coaches for a while and he said they were offering me a scholarship, along with (teammates) Marshon Lattimore and Erick Smith."

"I'm supposed to speak to Nick Saban later today," he added. "They said they liked my film and said I would fit in with the players they recruit. They said I could help them a lot if I would go down there to play. I told them I'm still committed to Ohio State, but they said they didn't really care about that at all. They said they go after who they want and don't pay attention to who's committed. This offer doesn't really change things for me at all, and I'm still committed to Ohio State."
Continue reading Why Urban Meyer Should Worry Alabama Offered Ohio State Commit Marcelys Jones