Ohio State hardly needs motivation thanks to the chip on its shoulder already firmly in place after sitting out the postseason with a perfect record. But just in case any players required any extra fuel heading into workouts or wanted a little help putting together some goals, BuckeyeNation is here to lend a hand with some records that could be in reach with another productive offseason. SOLO TACKLES IN A GAME Who owns it: The combination of a one-man wrecking crew and an abundance of chances to deliver hits has popped up a few times in Ohio State's decorated history, though Tom Cousineau's busy afternoon against SMU in 1978 still stands alone in the record books.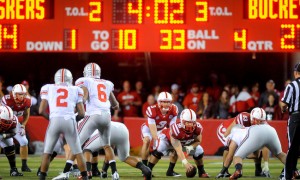 #12 Ohio State (5-0, 1-0) vs. #21/20 Nebraska (4-1, 1-0)
Saturday, Oct. 6, 2012 – 8 p.m. ET
Ohio Stadium (102,329)
Columbus, Ohio
THE BROADCASTS
Television: ABC will televise the game with Brad Nessler and Todd Blackledge in the booth …
The night before the storm followed a familiar pattern.
The Buckeyes had team meetings at 3 p.m., then had a buffet dinner at the Ohio State Golf Courses at 6:45 p.m. before going to the on-campus Blackwell to spend the
…