Last week in Michigan, the Wolverines' band Ohio State with a script "OHNO" during its halftime performance, this week the Buckeye band got its revenge.
During halftime against Sand Diego State on Saturday, the Buckeyes put together a  game show …
Recently the Ohio State Marching Band delivered an incredible halftime show titled, 'A Tribute to Video Games'. That show has gone viral on YouTube and according to Reelseo.com, has now had more than 12 million views since the October 7th performance. That excitement paired with the anticipation of the upcoming Ohio State/Michigan game has spurred me to pen this article.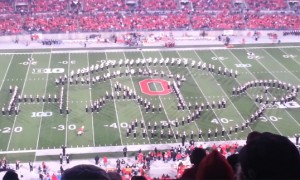 TBDBITL's "Video Games" halftime show vs. Nebraska